Honourable Brigands, Magic Horses & Evil Eye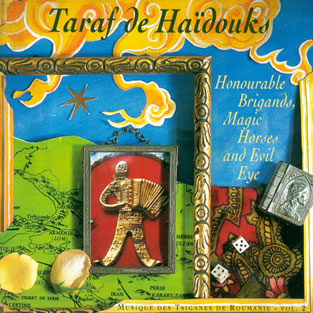 The second album by Taraf de Haïdouks, recorded in Romania in 1994.
Reactions were even warmer than for the 1st album ("Honourable Brigands" was for example voted best world music album of 95 by the German critics association). More extensive tours took place, and a 52 minutes documentary on the band was shot by French director Guy Demoy and co-produced by Crammed and French-German TV channel ARTE.
Tracks list
Spune, Spune, Mos Batrin
Hora Din Caval
Azi Eram Frumoasa, Juna
Tiganeasca
Cind Eram La '48
Geamparale
Cintec de Dragoste si Joc
Doina Si Cintec
Jalea Tiganilor
Turceasca
Balada Lui Corbea
Sirba
De Ma Deie But De Pau
Briu
Duba, Duba Si Hora
Lelita Circiumareasa