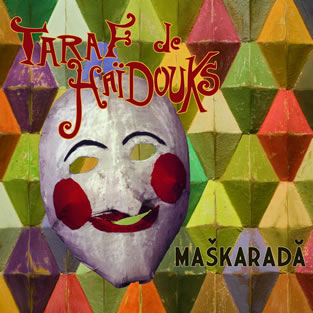 On this album (their first studio recording since 2001's acclaimed "Band Of Gypsies"), the world's leading Balkan Gypsy band tackles classical music!
In the early 20th century, many composers drew their inspiration from national folklore, often borrowing from Roma musicians to create their own vision of an exotic and largely imaginary Orient. Things have now been turned around, as one of the world's leading Gypsy bands have taken hold of classical pieces by Bartók, Khachaturian, Albeniz & more, and have "re-gypsyfied" them, giving them an exhilarating make-over. Starting out in a concert hall, Maskarada takes us through various stages which inevitably lead back to the type of repertoire for which the Taraf de Haïdouks are known and loved.
We first imperceptibly move into a cabaret, where Gypsy musicians have long been adapting classical pieces to entertain their audiences during the early hours of the night. We're treated to a piece featuring distinguished singer/cymbalum player Virginica Dumitru (the first-ever female Taraf guest instrumentalist) and to an interpretation of "Les Portes de la nuit" (written by French composer Kosma for the soundtrack of the eponymous 1946 film by Marcel Carné). The mood gradually heats up and the album closes on a wild finale.
For centuries, the Gypsies simultaneously disseminated and transformed local folklores, drawing as much from traditional songs as from formal music, in order to play at the courts of princes. Their style of playing conquered hearts and minds, and eventually became a source of inspiration for the "nationalistic" composers of the 19th and early 20th centuries, in search of indigenous roots for their work.

As a result of this constant to-and-fro, it is not easy to decide who is wearing the disguise: is it the rural Gypsy band playing a Strauss waltz, or the western European orchestra playing in a "Hungarian" style ? It's a gigantic masquerade, enriched by contributions from all the communities who move around, spreading their influence. It's like a carnival feast in the Romanian countryside, with these strange pagan masks which decorate the album sleeve and set the mood. A role-playing game to which the Taraf now brings its own feverish and wild touch.

As the Taraf have good taste, the repertoire is by no means predictable. Instead of Khachaturian's Sabre Dance, which is on the set-list of every Romanian accordionist who performs at wedding parties, they chose Lezghinka, an excerpt from the same ballet music, Gayaneh. Inevitably they were taken by the Romanian Folk Dances, as reinterpreted by Bartók. These were tunes that sound more than familiar to the Haïdouks' ears. Other tunes they found more difficult to memorize, especially as no-one in the band reads music. They then had to resort to the assistance of several coaches, who helped them learn each and every line by ear. After weeks of work, the musicians were finally able to open the floodgates of embellishment and improvisation, to fly through the harmonic structures and let their hearts rule their fingers.

This album will sweep you along. It's no neat, well-ordered symphonic interpretation but, rather, a new kind of folklore returning with a vengeance. It's the soundtrack to a new style of cabaret, where you catch the strains of Autumn Leaves between two frenzied pieces, where the guest star is called Virginica but sings like Edith Piaf, where a waltz co-exists with a sirba. What a surprise.

Jean-Stephane Brosse
Tracks list
Ostinato & Romanian Dance (Bartók)
Lezghinka (Khachaturian)
Danza ritual del fuego (de Falla)
Waltz from Masquerade (Khachaturian)
In A Persian Market (Ketèlbey)
De cand ma aflat multimea (Taraf de Haidouks)
Mazurka (Liszt)
Romanian Folk Dances (Bartók)
The Missing Dance (Bartók)
Asturias (Albéniz)
Parca io te am vezut (Taraf de Haidouks)
Hora Moldovenesca (Taraf de Haidouks)
Les Portes de la nuit (Kosma)
Parlapapup (Taraf de Haidouks)
Suita Maskarada (Taraf de Haidouks)